Botox, botox, botox… Probably the most effective anti-aging treatment of the century. Botox, being a part of our lives and happily used for ages, effectively prevents and reduces the age-related facial lines and wrinkles. In this respect, it is a measure taken against time.
Quick treatment, effective result
Well-known by almost everyone today, botox treatment is applied in a short time and yields results pretty quickly. In contrast to the surgical procedures that involve severe planning and recovery process, botox injections are very comfortable. At the end, it provides a remarkable lift and freshness to the face. Anyway, it proves useful for you to pay attention to some simple factors to be able to keep this youthful and sparkling new look for as long as possible.
Picking the right Dermatologist
First and foremost, picking a Dermatologist who can apply the right botox in the best way is the most important first step. Dermal injections, making you feel and look great, have been preferred by millions all over the world for years with their positive results. Therefore, it is of the utmost importance that the diagnosis and the treatment be delivered by the right 'hands'. A Dermatologist, considering and understanding your needs and thus correctly directing you, knows well enough that the solution and the application are specific to you, and can conduct a suitable treatment. In brief, picking the right Dermatologist means the success of the procedure from the very beginning.
How to make the most of botox
As we mention in almost every column, the results of the procedures might vary from person to person. That depends on a wide range of factors from the characteristics of your wrinkles to your anatomic structure. Studies suggest that the effects of botox last about three to five months. Anyway, if you want to keep your botox longer and better, you'd better pay attention to the below key points.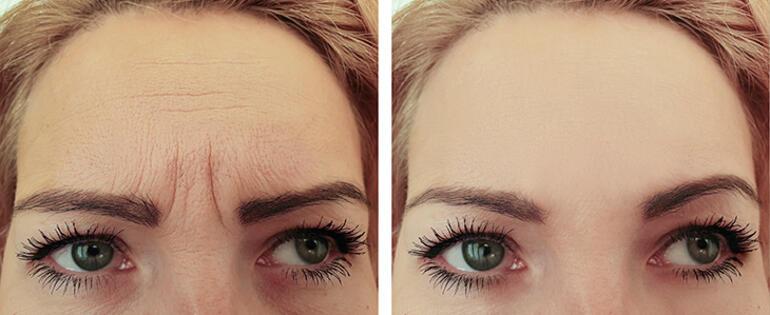 Postpone physical exercise
Doing intense physical exercise following botox treatment is not suggested, as it will cause the irregular 'migration' of the botox substance in your face. Therefore, we suggest that physical exercise be done at least 24 hours after the application. As for the mild exercise, you need to wait at least four hour after the injection.
Do not lie down
Likewise, we do not suggest you to lie down for at least four hours after botox. It is significant to keep in an upright position for a while for the regular distribution of your botox. In case you really have to lie down immediately, keeping your head above will be a good solution.
Avoid heat
We do not suggest being in overly heated environments following a botox treatment because heat is not good for the treated area. Therefore, avoid direct sunlight or overly heated areas after botox. To illustrate, a hot bath or sauna (steam bath) is not suggested for three days.
Do not fall for the advertisements
The aesthetic treatments, especially those applied on the face such as botox, must be done by a doctor. Do not credit the "economical solutions" marketed on social media as "campaigns". Such applications, unfortunately, most often cause irreversible severe negative results.
All in all, we are all to grow older, but it is up to you to control how time will affect your face and your skin. We can help you reverse the aging process with popular and effective cosmetic injections like botox so that you can look and feel great. You, too, with some simple measures, can enjoy this period for longer and better.
Dermatologist Dr. Ersin Aydin